NoSQL Search Roadshow London 2013
Justin Makeig, Tweet
Director of Product Management at MarkLogic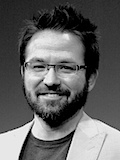 Justin Makeig is a Director of Product Management at MarkLogic where he oversees the suite of applications, tools, and APIs built around MarkLogic Server. He manages the company's Hadoop strategy along with front-end application development and administration tools. Justin has over 10 years of experience designing, developing, and bringing to market data-driven applications for start-ups and large organizations using web and Big Data technologies. He holds an MBA from the University of California, Berkeley.
Time: Wednesday 09:55 - 10:40
/
Location: Dollar & Dime
Abstract: Securely and cost-effectively managing petabytes of data from siloed systems is both a threat and opportunity for banking, healthcare, and other organizations in highly regulated industries. Technology advancements and the changing economics of storage and compute have made it possible to leverage this data to do more far-reaching and sophisticated analysis. However, sweeping changes to privacy and transparency laws have heightened the importance of data governance.

In this session we will examine best practices around the use of Hadoop as part of a regulated data environment, including retention, provenance, privacy, and security. Drawn from production projects impacted by Dodd-Frank, FATCA, and HIPAA, we will illustrate architecture and governance policies across real-time operational and long-tail historical data.


Time: Wednesday 14:30 - 17:40
/
Location: Yen
MarkLogic is the trusted platform for Big Data applications: the schemaless Enterprise NoSQL database technology, coupled with powerful search and flexible application services gives customers worldwide the possibility to run their business critical solutions scalable and secure.

The training gets you from zero to NoSQL-hero instantly (well, make that 90 minutes). We will install MarkLogic, and create an application with MarkLogic Application Builder using data from various sources. the only thing you need to bring is a laptop with 64bit operating system and administrator rights.