NoSQL Search Roadshow London 2013
Tareq Abedrabbo, Tweet
CTO at Open Credo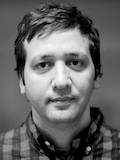 Tareq is Chief Technical Officer at OpenCredo. He is continually involved in the delivery of innovative projects, frequently incorporating NoSQL/Big Data and Cloud platforms, to a wide range of organisations. His approach is highly pragmatic and hands-on, and focuses on problem solving and delivering value to his clients.
Tareq has a strong interest in programming languages, ranging from Scala and Python to Google Go. He has expert knowledge in a number of NoSQL technologies, including Neo4j, MongoDB and Redis. He is also co-author of Neo4j in action, the comprehensive guide to Neo4j.
Tareq has been actively involved with the Spring project since the early days, and has been a committer on Spring Web Services.
Twitter: @tareq_abedrabbo
Time: Wednesday 17:45 - 18:30
/
Location: To be announced
Traditional software development practices struggle with data that is massive, complex and variable. Blindly following "best practices" generally results in applications that are not fit for purpose or that are hard to evolve and maintain.
In this talk, Tareq Abedrabbo, CTO and Principal Consultant at OpenCredo, highlights common mistakes and misconceptions he has encountered in building data-centric applications, sharing his ideas around how design and development of such applications should be approached.