NoSQL Search Roadshow Munich 2013
Markus Schmidberger, Tweet
Big Data Analyst for the comSysto GmbH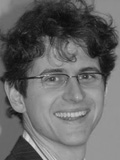 Dr. rer. nat. Markus Schmidberger is working as a Big Data Analyst and HPC & Cloud Computing Expert for the comSysto GmbH, Munich, Germany. He did his PhD at the University of Munich in 'Parallel Computing for Biological Data'. His main research focus is on high performance computing and big data analyses with the R (r-project.org) language. His work and publications have a strong influence to the R, computational statistic and computational biology community.
Time: Tuesday 14:15 - 17:40
/
Location: Holl
Big Data is on every CIO's mind. It is presently synonymous with open-source technologies like Hadoop, and the 'NoSQL' class of databases. Another technology that is shaking things up in Big Data is R. R (www.r-project.org) is an open source programming language and software environment designed for statistical computing and visualization. Today, R is quickly becoming the new standard for statistics and version number 3.0.0 is already announced for summer 2013. The R statistical software is the fastest growing analytics platform in the world, and is established in both academia and companies for robustness, reliability and accuracy.
We will demonstrate the usability of R for business analytics in Big Data problems covering the following topics followed by many real world examples:
history and introduction
programming and visualization
for Big Data: MongoDB and Hadoop connection
Attendees won't need any previous experience with R, but some basic ideas about functional programming would be great. Please bring your own laptop with an up-to-date Internet browser. Access to a cloud based analyses environment will be provided.