NoSQL Search Roadshow Munich 2013
Stefan Armbruster, Tweet
Field Engineer for EMEA at Neo Technology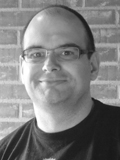 Stefan has spent ~15 years as a freelance consultant, mainly focused on web applications (esp. Grails). He's been working with Neo4J for the past 3 years. Aside from coding in the java ecosystem he is a passionate Linux veteran since the kernel 1.0.x days. When not coding, he cycles and is a volunteer firefighter at the local fire department, acting as a team lead and instructor. He's a true geek and loves technology, good food, and red wine.
Time: Tuesday 11:40 - 12:25
/
Location: Effner II
Join this presentation for a high level introduction to graph databases. This talk demonstrates how graph databases fit within the NOSQL space, and where they are most appropriately used. In this session you will learn:
Owerview of NOSQL
Why graphs matter
Overview of Neo4j
Time: Tuesday 14:15 - 17:40
/
Location: Gärtner
This tutorial covers the core functionality of the Neo4j graph database. With a mixture of theory and hands-on practice sessions, attendees will quickly learn how easy it is to develop a Neo4j-backed application.
Topics covered include:
Introduction to Neo4j
Overview of Cypher query language
Data modelling
Social use cases including recommendations
Other case studies in real world domains
Opportunity to consult on current projects, possible implementations and proof of concepts
Attendees won't need any previous experience with Neo4j, NOSQL databases or specific development languages, but will need their own laptop with Neo4j installed.