NoSQL Search Roadshow Zurich 2013
Patrick Baumgartner, Tweet
Senior Software Consultant | Partner at Swiftmind GmbH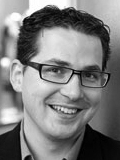 Patrick Baumgartner is co-founder of Swiftmind, a Swiss software company that helps companies maximize their software product's potential by consulting them on best practices for software architecture, design, implementation, and testing, with a focus on enterprise Java applications, the Spring Framework, OSGi, and agile engineering practices. As an experienced senior software architect and Agilista, Patrick has worked on projects in the financial, government, and industrial sectors. He is a VMware / SpringSource Certified Instructor (trainer) and co-author of the German book "OSGi für Praktiker".

Twitter: @patbaumgartner
Time: Thursday 11:50 - 12:35
/
Location: Pendulum
The social graph of Facebook is the most popular application for a graph database. In addition, there are far more exciting applications, such as spatial data, financial trail, indexing, and others. If you combine different graphs, you are able to evaluate those together with the algorithms known from the graph theory. As a graph, a domain can often be easier and more natural designed.
This talk introduces the topic of graph databases and shows how to implement mediated models with large, complex and highly connected data with Neo4j. Subsequently, topics like querying, indexing, import / export, scaling, tools and APIs are considered as well. Finally, we examine the highlights and challenges in the use of technology.
Time: Thursday 14:30 - 18:05
/
Location: Index
This tutorial covers the core functionality of the Neo4j graph database. With a mixture of theory and hands-on practice sessions, attendees will quickly learn how easy it is to develop a Neo4j-backed application.
Topics covered include:
Introduction to Neo4j
Overview of Cypher query language
Data modelling
Social use cases including recommendations
Other case studies in real world domains
Opportunity to consult on current projects, possible implementations and proof of concepts
Attendees won't need any previous experience with Neo4j, NOSQL databases or specific development languages, but will need their own laptop with Neo4j installed.