NoSQL Search Roadshow Amsterdam 2013
Ken Tune, Tweet
Senior Consultant at MarkLogic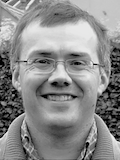 Ken has worked in the Financial Services and Information Technology industries for nearly 20 years now. His experiences include creating HSBC's first Value at Risk and Stress Testing systems, building online sports applications, designing a valuation workflow platform for Markit and a year as a Eurobond salesman.
Since joining MarkLogic two years ago he has enjoyed working with a wide variety of customers, including the BBC, JP Morgan Chase, UBS and Deutsche Bank
He holds a Mathematics degree from Cambridge and an MSc. in Computer Science from Imperial College, London.
Time: Thursday 14:30 - 18:05
/
Location: Room 2
MarkLogic is the trusted platform for Big Data applications: the schemaless Enterprise NoSQL database technology, coupled with powerful search and flexible application services gives customers worldwide the possibility to run their business critical solutions scalable and secure.
The training gets you from zero to NoSQL-hero instantly (well, make that 90 minutes). We will install MarkLogic, and create an application with MarkLogic Application Builder using data from various sources. the only thing you need to bring is a laptop with 64bit operating system and administrator rights.