NoSQL Search Roadshow Berlin 2013
Amir Levy, Tweet
EMEA Sales Director at GigaSpaces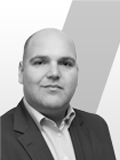 Amir Levy has many years of experience in the technology industry, managing strategic sales and customer relations in the EMEA region. With a current focus on Cloud and Big Data technologies, Mr. Levy brings a unique business perspective to the table.
Time: Thursday 16:55 - 17:40
/
Location: To be announced
Adopting a NoSQL solution to manage your Big Data is an important step, but not the end-solution to your Big Data challenges. Here are some of the additional considerations you must face:
• Choosing the right environment: The massive computing and storage resources that are needed to support Big Data applications make cloud environments an ideal fit, and more than ever, there is a growing number of choices of cloud infrastructure types and providers. Given the diverse options, and the dynamic environments involved, it becomes ever more important to maintain the flexibility for all your IT needs.
• Big Data is a complex beast: It involves many and different moving parts, in large clusters, and is continually growing and evolving. Managing such an environment manually is not a viable option. The question is, how can you achieve automation of all this complexity?
• The Big Data ecosystem: There is a whole rapidly growing ecosystem to contend with, including Hadoop, NoSQL datastores, data processing, analytics tools… As well as your own application services. How can you manage deployment, configuration, scaling and failover of all the different pieces, in a consistent way?

This session will illustrate both the challenges and benefits of deploying your NoSQL stack to the cloud, and will include a large ISV case study.