NoSQL Search Roadshow Berlin 2013
Dirk Möller, Tweet
Director Sales Central European Region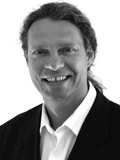 Dirk Möller is a seasoned IT sales veteran with 18 years of IT experience and 16 years of sales experience working at companies that include: Lotus/IBM, Hummingbird, Symantec, Landesk, Sophos, and Pentaho. He has been very successful at either reaching target or overachieving sales targets, while having fun selling cool technology! He lives in the beautiful city of Munich, has been married to Carla for 13 years, and has two boys. In his spare time he enjoys skiing, snowboarding, and mountain biking. He would like to travel and see some nice spots of Europe/the world together with his family.
Time: Thursday 11:40 - 12:30
/
Location: To be announced
Join this presentation for a high level introduction to graph databases.This talk demonstrates how graph databases fit within the NOSQL space, and where they are most appropriately used. In this session you will learn:
Overview of NOSQL
Why graphs matter
Overview of Neo4j
Time: Thursday 11:45 - 12:30
/
Location: To be announced
In this session you will learn who Neo Technology is and what the typical use cases for commercial customers are to use a graph database to solve their business problem. Why are customers choosing a graph database? What are the typical benefits that they encountered? The presentation is very useful for business representatives, CIOs and IT directors that do not want to have a technical deep dive yet but want to understand why Neo is enterprise ready!
Time: Thursday 14:15 - 17:45
/
Location: To be announced
This tutorial covers the core functionality of the Neo4j graph database. With a mixture of theory and hands-on practice sessions, attendees will quickly learn how easy it is to develop a Neo4j-backed application.
Topics covered include:
Introduction to Neo4j
Overview of Cypher query language
Data modelling
Social use cases including recommendations
Other case studies in real world domains
Opportunity to consult on current projects, possible implementations and proof of concepts
Attendees won't need any previous experience with Neo4j, NOSQL databases or specific development languages, but will need their own laptop with Neo4j installed.