NoSQL Search Roadshow Copenhagen 2013
Joachim Wester, Tweet
Founder and board member at Starcounter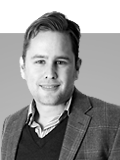 Joachim Wester is the founder and a Board Member of Starcounter, a database development company providing the world's highest performing in-memory database. Joachim founded Starcounter in 2006 and his efforts and vision are taking the database industry to the next level of performance. He has founded multiple successful companies, including Medea System AB with software translated to over 16 languages and Aldata Solutions AB. A computer whiz from the start, Joachim is a self-taught programmer, building his first computer in the fifth grade. At age 14, he won first place in the Commodore International Computer Art Challenge and began his journey as a successful technology entrepreneur.
Time: To be announced
/
Location: To be announced
A single PC is capable of handling over a hundred billion instructions per second. That is more than a hundred thousand IBM mainframes when Oracle v2 was launched. A single high-end network card can handle 10 Gbps, more than the total output of Wikipedia. Are we really deploying all of this power? This presentation will provide a practical hands-on demonstration and visionary outlooks.