NoSQL Search Roadshow Copenhagen 2013
Marcus Kern, Tweet
VP of Technology at Velti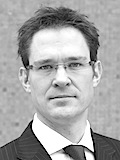 Marcus Kern started his telecom career as an entrepreneur in 1998 when he founded voiceIT communications, re-selling voicemail services. Prior to that Kern graduated with distinction in Physics at the University of Hamburg after completing a research year at the Optoelectronics Research Centre in Southampton.
Early in the new millenium Kern led the architecture and implementation of O2's strategic SMS Open Architecture platform and provided key technical consultancy on all SMS related applications for O2 Products, setting product strategy and guiding O2's technology roadmap in messaging for 2.5G and 3G applications.
During 2004 Kern worked for T-Mobile International driving technical design and implementation of a £2 million SMS/MMS alerting platform across T-Mobile's European footprint for the Euro2004 Football championship across four markets.
In 2005 Kern co-founded Mobile Interactive Group (MIG) and started as its CTO. He has been imperative to MIGs expansion to 200 employees over six years. In September 2008 MIG has been ranked No.1 in The Sunday Times Microsoft Tech Track 100, securing the title of fastest growing privately owned technology company in the UK.
MIG was acquired by NASDAQ listed Velti plc in November 2011 and Kern now acts as Vice President of Technology for the corporation.
Time: Thursday 12:30 - 13:15
/
Location: To be announced
In high performance and highly concurrent applications the receiving and orderly processing of messages can become less trivial then often thought. David Dawson and Marcus Kern are technology leaders in global mobile marketing firm Velti and have previously talked about their real-world experience with various SQL and NoSQL storage approaches under high load.

This new talk focusses on queuing strategies for message processing and message transport, fundamental to high speed mobile messaging applications at Velti. From SQL-based queuing approaches, the team will discuss how they optimised performance in traditional systems, then ported and adopted the concept to NoSQL queueing approaches and finally arrived at an inventive hybrid solution.

Dawson and Kern share their gotchas and lessons learned throughout, followed by a Q&A session on the topic.